Let's see, Governor Abbott actually followed through on his threat to send illegal immigrants to Washington DC. It got to me to thinking. Why not offer everyone who comes across in Texas a choice on whether they want to go to Washington DC, New York, California or Chicago. In that way they can choose and they can be transported to these left leaning supportive cities.
I mean what is Mayor Adams going to say? Stop? Abbott can reply don't tell me, tell the President. He has allowed a million illegally into my state. This group just chose your city.
If busload after busload started arriving in these four places what would they say? Are they going to sue Texas?
Speaking of New York: Did you see that the Lt. Gov. Brian Benjamin had to resign this week after being arrested in connection with an alleged bribery scheme and coverup? This was while he was being vetted to join the administration of Gov. Kathy Hochul, as she assumed the Governorship from Andrew Cuomo, who was forced to resign. In recent years there has been a long line of forced resignations in NY.
But, you know what? Democrats continue to garner 70%+ of the vote in NYC.
Proving again that you get what you vote for.
Do you remember the news and headlines when during the George Floyd case in Buffalo one elderly protester blocked the police and fell to the ground as pushed aside? You should recall the uproar and demand for charges on the officers.
Well guess what?
An arbitrator ruled the use of force was "absolutely legitimate" because the man, who was hospitalized with a head injury, was "not an innocent bystander." He added:
The officers had not violated the department's guidelines and there was no evidence that they "had any other viable options other than to move Gugino out of the way of their forward movement." Mr. Gugino, he added, had not complied with an order "to move back, and was making odd physical gestures within a foot" of the officers.
This was on top of a grand jury last year declining to indict the two officers, who had been facing felony assault charges.
And to top it all off, the gentleman who was involved (and caused) the incident refused to appear and did not respond to a subpoena to appear at the hearing and "in effect refused to testify" on his own behalf.
Now the media covered this for days as police brutality. Where is the story and apologies now?
I see, ninety-five House Republicans are demanding that Attorney General Merrick Garland appoint a special counsel to investigate Hunter Biden for financial impropriety overseas. Republican lawmakers, led by Rep. Carol Miller of West Virginia, sent a letter to the Justice Department on Wednesday urging Mr. Garland to ensure that current probes of Hunter Biden's business dealings are free of conflicts of interest. "We believe that in the case of Hunter Biden a Special Counsel must be appointed to preserve the integrity of this investigation and any subsequent prosecution," the lawmakers wrote. "A Special Counsel would also ensure there is no bias in the investigation or undue influence from the White House."
Won't happen, I believe, until after the mid terms – if the Republicans win.
Remember the story of the Russia warship and their demand of surrender? The one where the Ukrainian soldiers replied as to what the Russians can do? Well, it's now a stamp in the country. Here's a picture.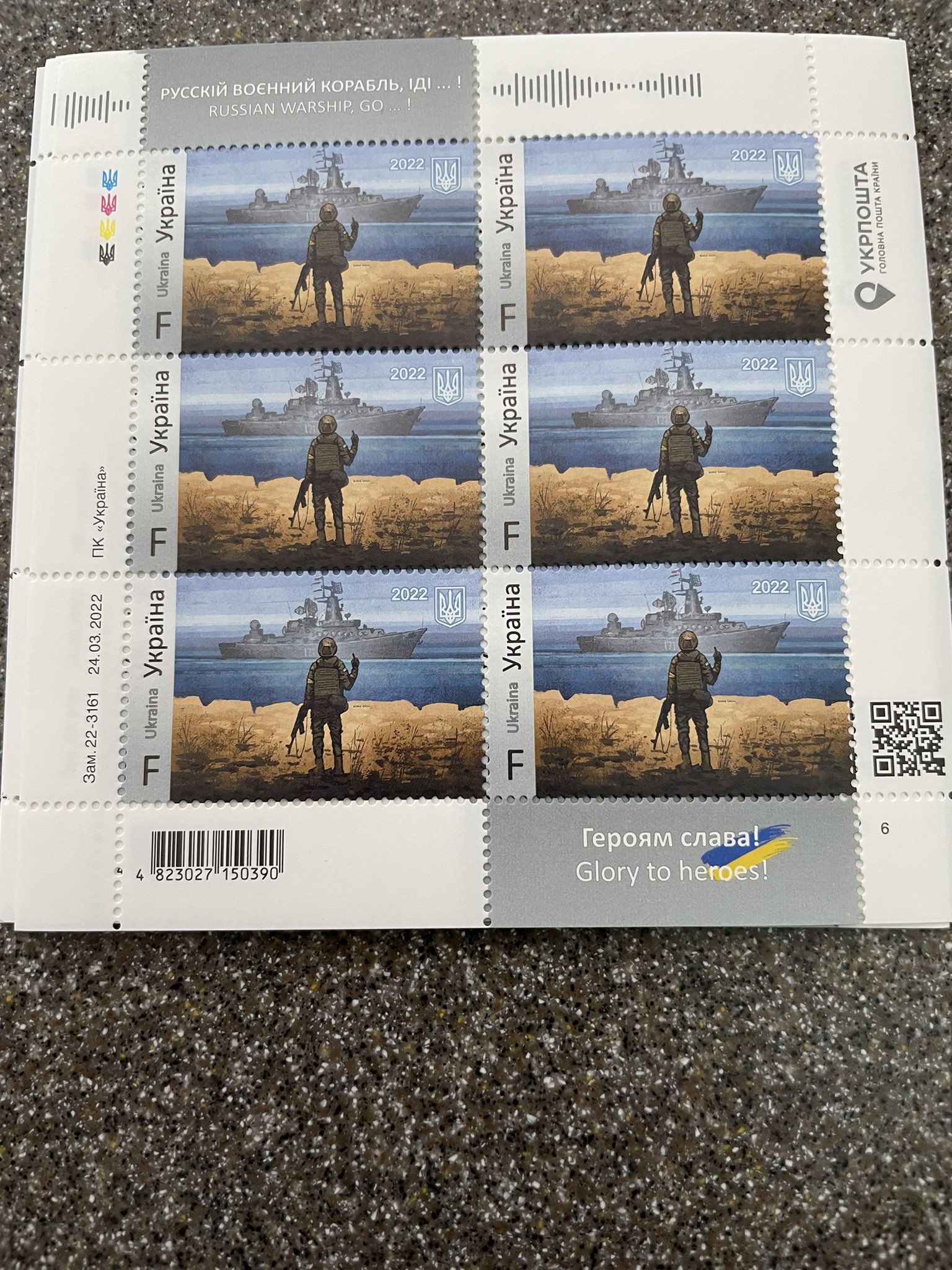 Some Political Thoughts
As we get closer to the mid terms every senate race is key. The Democrats may have lost a top recruit and their best candidate against Sen. Grassleyin in Iowa. Former Rep. Abby Finkenauer was knocked off the Democratic primary ballot for failing to submit the proper number of petition signatures to qualify for the race.
She is appealing, but as of now she is out of the race.
On the Republican side, Lynn Cheney is fighting back. She raised $2.94 million in the first quarter. (Normal might have been a few hundred thousand.) She has $6.8 million on hand for the Republican Primary on August 16th. It is clear she is ready to battle. On top of the money she has been endorsed by George W. Bush, Mitch Mcconnell, Mitt Romney and Paul Ryan.
Her opponent, Harriet Hageman, has raised half the amount Cheney has. She has received endorsements from Donald Trump, Kevin McCarthy, Peter Thiel and dozens of House Republicans who kicked Cheney out of House GOP leadership.
One more thing to remember and consider. There is a third candidate in the race. A pro Trump state senator named Anthony Bouchard. His vote will be anti Cheney, too, and if he gets enough, maybe Cheney squeaks back in.
This one will be a Republican donnybrook.
The President announced that the EPA Administrator is planning to allow E15 gasoline—which uses a 15% ethanol blend—to be sold this summer at gas stations. He hopes this can reduce the price of a gallon by up to ten cents. So think about it: One million gallons a day from our reserve and now this. Yet, the price is still up over $1.50 per gallon. And by the way, the ethanol is bad for the environment, which he is so concerned about. Why does he want every small impact solution as opposed to just easing regulations and just drill in America?
Hope Your Thursday Is A Good One.