new york's governor:
Andrew Cuomo will not resign, I can promise you that, and why should he? Look at Va. Governor Northham.
In the world of cancel culture, the Virginia Democratic Governor survived black face – even after first denying it.
So why should Cuomo resign?
He won't be impeached for the nursing home deaths or sexual encounters.
He said yesterday:
"I now understand that I acted in a way that made people feel uncomfortable. It was unintentional and I truly and deeply apologize for it. I feel awful about it and frankly, I'm embarrassed by it, and that's not easy to say. But that's the truth."

He now understands that asking someone to play "strip poker", or kissing them on the lips, or touching their back and faces, as you saw, was wrong. Aren't we lucky he now understands. He won an Emmy before he understood. He wrote a book on how to act and manage before he understood.
Think of what he can do now.

Some of us have long understood he was an arrogant, self centered individual.
Having said that, let me ask this. In the blue state NY, are you sure he can't win again?
I'm not.
the cancel culture vultures:
Gannett newspapers across the country cancelled the conservative cartoon Mallard Fillmore; after all, a conservative view.
They did so over two strips critical of President Biden and transgender participation in women's sports.

The first cartoon depicted President Biden musing:
"For too long, segregation sullied women's sports … They were restricted to women! Thank goodness those dark days are over."

In the second President Biden says:
"I hear what you, the American people, want me to do … kill fossil-fuel jobs … devalue Americans' labor … and help more transgender athletes beat the *@!# out of biological females."

That folks will get you cancelled in this era. Think of the Trump cartoons, ever hear of anyone getting cancelled then?
How is cancel doing?
Books by Dr. Seuss occupied nine of the top-10 sales positions on Amazon as of Wednesday afternoon.
This follows 48 hours of discord for the late author following a public determination that some of his material was "racist."

The top five books on Amazon: No. 1 were "The Cat in the Hat," followed by "Green Eggs and Ham," "Oh, the Places You'll Go," "One Fish, Two Fish, Red Fish, Blue Fish" and the "Dr. Seuss Beginner Book Collection."

Crazy? I agree. Will we vote for change in 2022?
Well the Democrats (unanimously) passed H.R. 1 (as in number one) yesterday to make 2020 voting rules the norm. That means mailing out ballots, etc. No Republican supported this. They say you need to show ID to vote.
It goes to the senate now.
Your vote counts.
the border is in chaos:
Well, I said chaos.
The administration said it is a "challenge".

Whatever you call it, can someone please report the facts?
In 2016, 17 and 18, the Democrats refused to work with President Trump on any solution. He did it alone and got support from the Mexican President. It was under control.

As part of his executive order signing President Biden created this "challenge" and mess.
Consider this:
You know that accident that killed so many in the van? You know how they got across the border? They used a hole in the wall. You know, the wall we stopped building because it was bad? Well people have now died because of it.
The left has always been free with things like "Bush lied, people died." Well people are dying here. Is it now, Biden created a challenge and people perished?
Why the silence?
And while on that subject, we are so concerned with masks and stopping the virus spread, right?
How come 6% crossing are testing positive and yet released into the country? Hello!
By the way, where did those coming to cross the border get the Biden shirts?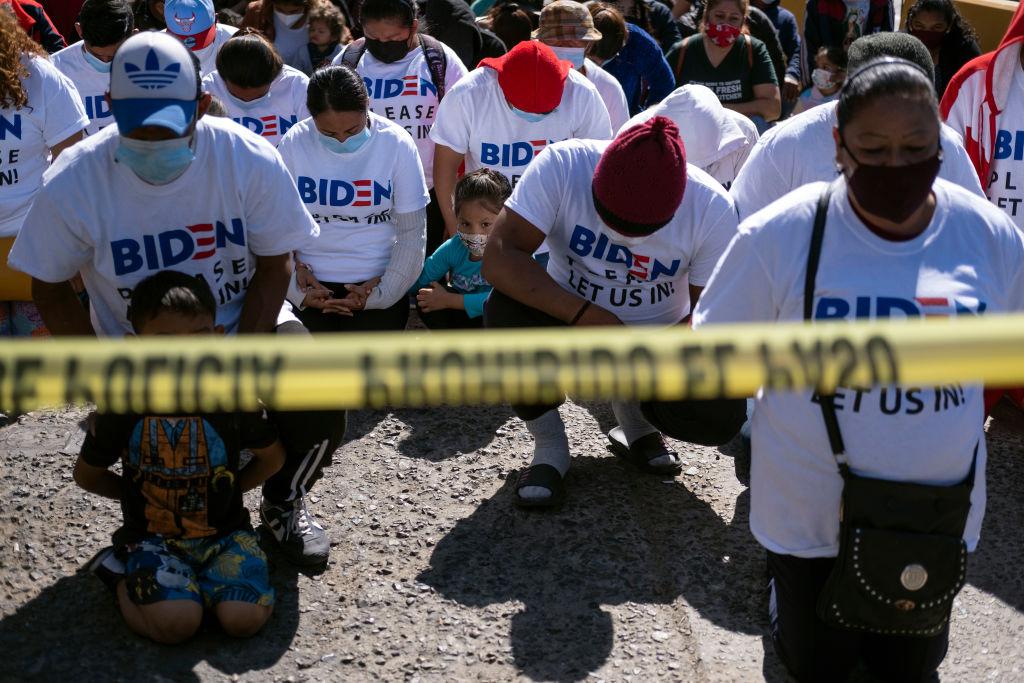 Here's where the $1.9 Trillion goes to states
Remember we told you the formula was based upon unemployment, so the states that closed are rewarded and those that kept businesses going are losers?
Well here's the chart from "The Committee To Unleash Prosperity."
SOME RATING NEWS
Former PresidentDonald Trump's speech at CPAC pulled in the network's highest ratings ever for a Sunday — 5.7 million people tuned in.

Fox News again won the cable competition last week.
They were No. 1 in both the daytime and nighttime hours.
Fox News prime-time audience of 2.5 million viewers, was followed by MSNBC with 1.9 million, CNN (1.2 million), ESPN (1.1 million) and HGTV (1 million).
have a great day. cancel the cancel culture.